Bruce Willis, a Hollywood icon known for his roles in iconic films such as "Die Hard," "Pulp Fiction," and "The Sixth Sense," has captured the hearts of millions worldwide with his charismatic on-screen presence and versatile acting skills. However, in recent times, the spotlight has shifted from his remarkable career to concerns about his health. In this article, we will explore the life of Bruce Willis Health, shedding light on his journey from a young aspiring actor to a renowned movie star.
Bruce Willis' Early Life and Career
Born on March 19, 1955, in Idar-Oberstein, West Germany, Bruce Willis had humble beginnings. He moved to the United States and struggled to make a name for himself in the competitive world of acting. Willis initially worked odd jobs, including as a private investigator and bartender, while pursuing his acting dreams.
Rise to Stardom
Willis's breakthrough came when he was cast as John McClane in the 1988 action-thriller "Die Hard." The film's success catapulted him to stardom, and he became a household name. His portrayal of the witty and tenacious NYPD officer made him one of the most sought-after actors in Hollywood.
Bruce Willis Personal Life and Family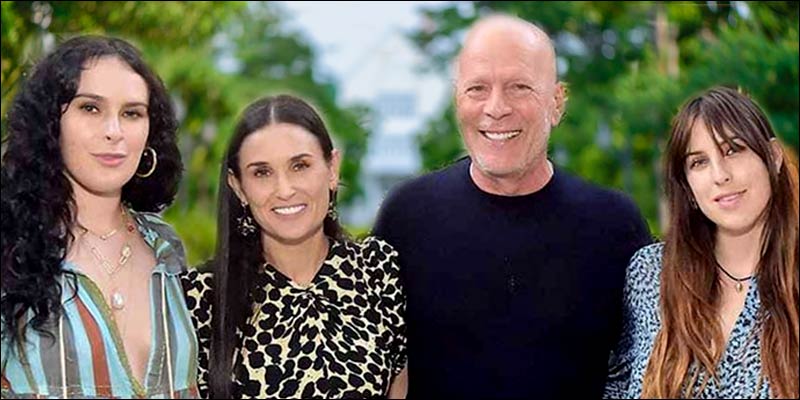 At the premiere of the film 'Stakeout,' Bruce Willis crossed paths with actress Demi Moore. They tied the knot on November 21, 1987, and were blessed with three daughters, including Rumer, born in August 1988. However, Willis and Moore announced their separation on June 24, 1998.
Subsequently, Willis was briefly engaged to actress Brooke Burns, but their relationship ended in 2004 after a ten-month romance. He then married model Emma Heming in Turks and Caicos on March 21, 2009. The wedding included his three daughters, Moore, and Kutcher as guests. Notably, the initial ceremony wasn't legally binding, so the couple had a civil wedding in Beverly Hills just six days later. They have since welcomed two daughters, one in 2012 and another in 2014.
Bruce Willis' Health Issues
Recently, the world was stunned by the news of Bruce Willis' health issues. The actor was diagnosed with aphasia, a neurological condition that affects a person's ability to communicate. Aphasia can result from various causes, including stroke or brain injury, and it has a profound impact on one's language and speech abilities.
What is frontotemporal dementia
Dementia is a broad term employed to describe cognitive decline, characterized by a notable reduction in one's previous level of functioning that hinders their capacity to handle daily activities such as managing finances, medication, driving, bathing, and more.
Various forms of dementia share common characteristics and exhibit overlapping signs and symptoms. Nevertheless, certain features are more prevalent in specific types when compared to others.
Bruce Willis Health Condition
In early 2023, the public was made aware of Bruce Willis' diagnosis through a statement from his family. The announcement expressed their gratitude for the outpouring of love and support from fans, while also acknowledging the challenging road ahead.
Treatment and Rehabilitation
The treatment for aphasia often involves speech therapy, where individuals learn strategies to regain their communication skills. Bruce Willis has reportedly been working diligently with a team of specialists to manage and improve his condition. His dedication to rehabilitation is a testament to his determination and resilience.
Support from Fans and Industry
The news of Bruce Willis' health struggles led to an outpouring of support from both fans and the entertainment industry. Colleagues, friends, and admirers expressed their love and encouragement for the actor, highlighting the impact he has had on their lives.
The Impact on Bruce Willis' Career
As a result of his health condition, Bruce Willis announced his retirement from acting. This decision was met with mixed emotions from his fans, who have been inspired by his work over the years. The entertainment world will undoubtedly miss his presence on the big screen.
The Importance of Raising Awareness
Bruce Willis' journey with aphasia has brought this little-known condition into the spotlight. Raising awareness about aphasia is essential, as it affects not only actors but many individuals worldwide. The understanding and support of people with aphasia can make a significant difference in their lives.
Celebrating Bruce Willis' Achievements
While we acknowledge the challenges Bruce Willis faces, it's equally important to celebrate his remarkable career and the joy he has brought to the lives of moviegoers around the world. His films will continue to be a source of entertainment and inspiration for generations to come.
Conclusion
In conclusion, Bruce Willis' health journey is a testament to the strength of the human spirit. His contribution to the world of cinema has left an indelible mark, and his courage in the face of adversity serves as an inspiration to us all.
FAQs
Q1. What is Bruce Willis health condition?
Almost two years following the initial announcement by Bruce Willis' family about his aphasia diagnosis, they have now revealed that his condition has advanced to a more severe state known as frontotemporal dementia.
Q2. What caused Bruce Willis frontotemporal dementia?
The exact cause of FTD remains a subject of ongoing research, but scientists concur that it is associated with the accumulation of abnormal proteins in the brain. Aphasia, a common symptom of FTD, is what Bruce Willis' family initially disclosed in a social media post early last year.
Q3. How long can a person live with frontotemporal dementia?
Individuals diagnosed with FTD typically have a life expectancy of six to eight years with the condition, although some may live longer or shorter periods. In most cases, the ultimate cause of death is related to complications arising from the advanced stage of the disease.
Q4. What is Bruce Willis's most famous role?
Bruce Willis is widely recognized for his role as John McClane in the "Die Hard" series.